Improve Performance
Helps with, balance, focus, and mental clarity. Allows you to move in a full range of motion starting with a full stretch and ending with a peak contraction, this maximizes overall chest and core development.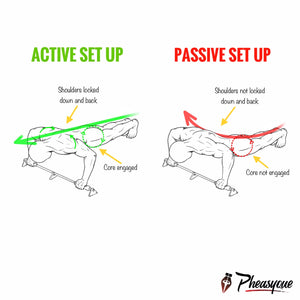 More Than Just A Balance Trainer
Improve upper body, develop your CHEST and CORE strength with this one-of-a-kind home training device.
Sculpt, build lean muscle and define your upper body with a tool that leads to proven results!
Versatility at it's Core. Train and stabilize from various angles to yield better results.
Keeping fitness affordable, portable, simple, practical with planks and push-ups.
Ordinary people make extraordinary moves with Beckford Bar.
Easy assembly and minimal space for storage.
Say no to gym fees and repetitive exercises.
Beginner Setup
Use minimum 3-4 days a week 5-10 minutes, 3-5 sets 8-15 reps. We recommend beginners start off on their knees to lessen the amount of body weight used. Proven Results.
Full Push-Up Setup
Use minimum 3-4 days a week 5-10 minutes, 3-5 sets 8-15 reps. We recommend beginners start off on their knees to lessen the amount of body weight used. Proven Results.
Testimonials
This is the best push-up workout on the market! I am 50 years old and I have purchased many push up gadgets over the years. The Beckford Bar is the only chest workout I use now. It works! You will not be disappointed. Plus, it's so easy to travel with. It would make a great gift for those who travel a lot. I will be purchasing another one. Thank you for the excellent customer service!

Jeff Kalk
This product is amazing! If you want to increase your bench and get stronger, this is the product for you... I'm benching 275 on the regular! It's a great workout when I can't make it to the gym.

Alvaro Osorio
I saw this advertised on Instagram and wanted to give it a try. I don't do the gym thing. Working out at home has always been my preference, so I was glad to see it was easy to set up and use. It's light on instructions, but you get a lot of good videos on the Instagram page as to how to make it a great addition to your workout. The set-up is easy and you can definitely feel it in your arms and your core. Affordable and just what I needed to take my workout to another level.

Cyrus Webb
Amazing product. As a college student that also works part time, the Beckford Bar is perfect for me to squeeze in quick workouts into my busy schedule. One can also get creative with it and do a wide array of exercises other than pushups. The bar also comes with a portable bag that makes it easy for me to carry it around campus, to the office, and back home. I highly recommend this product for anyone that has a hectic schedule or anyone that wants to get in a quality workout at home. It's also worth noting that I've owned this product for well over a year and it has not shown any signs of deterioration or wear.

Blass Lee
So worth it. Easy set up. Gives a super good chest pump. highly recommend. Already seeing and feeling improvements after a week. Great customer service too!

Keegan
I say go for it. Ordered last year. Great customer service. Best thing is the portability and it's ease of use. Benching was no good for me so I tried this. They even post workout routines on their social media.

Tid Quan
I absolutely love this product! It is so easy to incorporate into your daily workout routine. You can get a tough upper body workout in 5 minutes. It is also perfect for all experience levels. Beginners all the way up to calisthenics experts. By far my favorite home workout equipment!

Asante Cleveland
I love my bar so much! (It's more of a love-hate relationship only because it's so challenging when working out). Not only does it challenge you doing a push-up, you can workout all the other muscles involved in core stability without having to do all these crazy exercises. Incorporate this bar into your arms and core routines and it will most definitely challenge you. If you think you mastered push-ups, think again! If the grips ever get stuck (like they don't want to slide easily, or you actually want more of a challenge) just add a few oil drops to the bars to help the grips slide without friction. The bar is assembled quickly, it's portable and comes with its own bag for easy carrying. For more ideas on how to use this bar in your workouts, I suggest checking their IG page. It's helped me a lot!

Wendy Cruz
One of the most important important home and gym tools you will ever buy. This is an amazing tool we use in our studio! Core, chest, back, and triceps will never be the same after 6 weeks of using the Beckford Bar!

ELITE LIFE & FITNESS INC.